Civilian, Coast Guard rescue 5 from boat fire off Capers Island | News | postandcourier.com
Civilian, Coast Guard rescue 5 from boat fire off Capers Island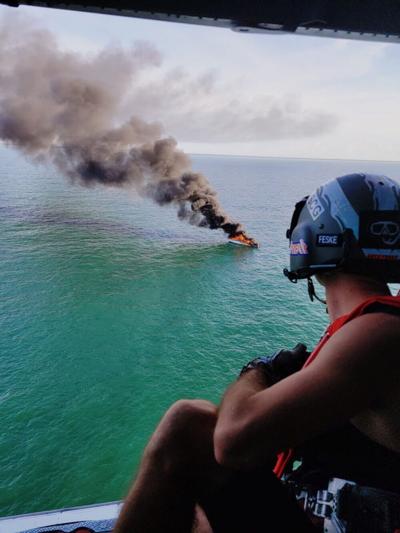 Subscribe today for $4 for 4 months
Civilians and the U.S. Coast Guard rescued five people after a 57-foot boat caught fire off of Capers Inlet on June 2.
Guardsmen got a call at 7:06 a.m. from the boat's operator stating that the vessel had caught fire and that five people were donning life jackets and moving onto a life raft, the Coast Guard said.
At the same time, the crew of the boat "Deliverance," saw the fire and responded to the area, about 5 miles east of the inlet, according to the Coast Guard.
The Deliverance arrived first to the scene and got the five evacuees out of the raft and onto their boat until guardsmen arrived and transported them back to shore, the Coast guard said.
"This case was a successful one due to the fact all five people had life jackets on and a life raft was able to get them safely off the burning vessel," said Petty Officer 3rd Class Max Alderman. "We want all mariners to always practice safe boating and make sure their safety equipment is checked regularly."
No one was injured during the incident.
The 57-foot boat was partially submerged, the Coast Guard said. Crews were able to put out the fire.